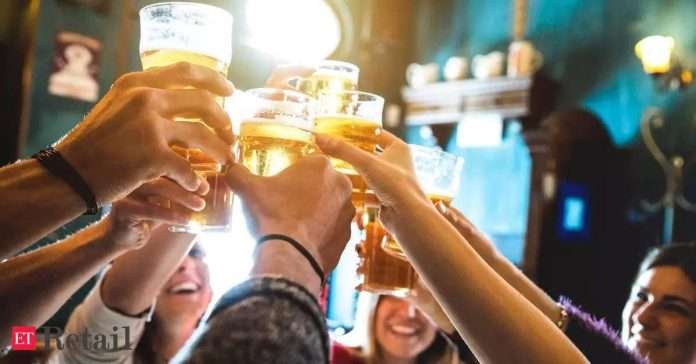 New Delhi: Despite inflationary pressure on companies as well as consumer pockets, alcoholic beverage brands saw no dip in consumer sentiment and demand during this festive season.
Sharing his thoughts, Amar Sinha, COO at spirits maker Radico Khaitan said, "From a microscopic view of our business, we don't think inflation has affected our consumers." He added that the brand has been witnessing an upsurge in its sales across the country, and there is no sign of grimness in the consumers' sentiment till now.
Commenting on the same, beer maker, Bira 91 in an email query said that maneuvering through inflation has been challenging. The company has been focusing on obtaining its essential commodities and improving and innovating its product mix, to demand premium pricing.
To tackle inflation, Bira 91 claims to have prioritized cost management on aspects not affecting its beer. However, despite these challenges, the company hasn't seen a fall in consumer sentiment and demand, it highlighted.
"We have seen our sales in the festive season double in comparison to last year," the company said adding that it saw its premium segment amplifying across tier 2 cities in addition to metros.
Sharing an outlook on inflation, Rishi Pardal, MD and CEO, United Breweries, manufacturer of Kingfisher beer said that for the rest of the year, the company is going to focus on managing inflation by pursuing judicious price increases and cost management.
The company saw a 23 per cent year-on-year rise in its overall volumes for the July-September quarter grew, with its premium portfolio outpacing the overall portfolio growth on the back of strong performance of Heineken and Kingfisher Ultra, he shared.
"We expect the next few months to see steady demand and continue to stay optimistic on the long-term growth potential of the industry," Pardal commented.
New product launches to woo customers during festive season

To cater to the surge in demand for alcoholic beverages during the festive season, brands capitalized on new product launches.
Radico Khaitan extended its product portfolio along with extending its consumer base, said Sinha. He shared that the brand launched After Dark Blue Whisky and 1965 Lemon Dash Rum.
Radico Khaitan also strengthened its ready-to-drink portfolio with Magic Moments Vodka Cocktail. While the company has presently launched the product only in Karnataka, it plans to expand it to other parts of the country.
In line with the festive season, Bira 91 launched its new portfolio of Imagined In India Phase 2 consisting of three beers -Diwali Vintage Scotch Ale, Fireworks Hoppy Wheat, and Fest Oktoberfest.
Expanding its premium beer segment, UBL launched Heineken Silver. "This launch reflects our bold ambition to premiumise the beer category and shape the future of the Indian beer industry," said Pardal about the launch.
The above news was originally posted on news.google.com
Promotion