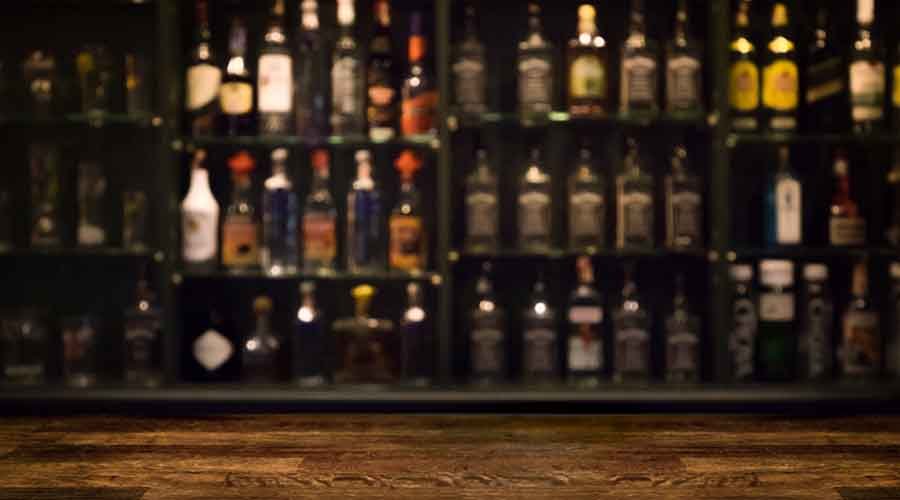 Prices of several brands of liquor have tumbled to a multi-year low in Bengal.
Promotion
The early figures from the state excise department suggest bottled in origin (BIO) brands will be the big gainer from the latest round of tax tweaks carried out by the government last week.
A bottle of 12-year old Glenlivet single malt will now retail at Rs 3,360, coming off by 43 per cent from Rs 5,900. Similarly, a 750ml bottle of Chivas Regal blended scotch will now retail at Rs 3,500, down by 36 per cent. (See chart).
There has also been a steep reduction in overseas labels which are bottled in India as well. Brands such as Black Dog Triple Gold Reserve or a 100 Pipers Deluxe Blend are coming down by more than Rs 1,000 for a bottle of 750ml.
The new prices will remain in place till the end of next March when the government will take stock of the revenue.
The new prices in the state are lower than those prevailing in the many other states. For instance a 750ml bottle of Swedish vodka Absolut that costs Rs 1,790 in Bengal now would cost around Rs 2,150 in Odisha and Rs 2,700 in Jharkhand. This will curb the influx of alcohol from the neighbouring states, lower the risk of sale of spurious liquor in Bengal and result in greater sales volume and revenue for the state.
"The drop in sales was almost between 35 and 40 per cent. It was not that people had stopped drinking but they were possibly shifting to other cheaper brands, opting for smuggled products or even illicit and spurious liquor," state excise commissioner Uma Sankar S. told The Telegraph. "We want to keep the price and the volume of sales in an equilibrium."
Liquor prices in the state had shot up by 40-90 per cent across brands in the financial year 2020-21 through a series of tax rate changes as the government scrambled to find ways to shore up revenue to combat the impact of Covid lockdown.
While the initial expectation was the higher prices will result in more revenue for the state, sales nosedived.
Smuggled liquor
While assessing the impact of the price hike on the market, senior officials of the excise department said they had observed that the quantity of smuggled liquor or presence of brands which were not to be sold in Bengal along with illicit liquor had gone up several times during this period.
"We had seized over one lakh litres of spurious liquor or those not meant for Bengal or illicit liquor between April and October. Earlier this volume would vary between 10,000 and 15,000 litres for the same period," said a senior official of the department.
"The price of premium and super premium brands have been kept at par with the rates in Delhi. So now there won't be any incentive to smuggle alcoholic beverages from Delhi," said Uma Sankar.
Excise changes
The state excise, having moved to an ex-distillery based price mechanism to fix maximum retail price of liquor last year, has kept the excise duty unchanged in the latest amendment at Rs 50 per bulk litre.
Additional excise duty has been lowered in declared price brackets of liquor. The number of declared price brackets have also come down from 22 to 17.
For bottled in origin liquor, importers said the pass fee charged by the state has also been lowered across slabs which is lowering the cost of imported liquor in the state. The net effect of the changes has resulted in lower MRP in the state even as a special purpose fee is being charged to promote responsible drinking.
Even with the slashing of prices, the excise department is looking to clock a revenue between Rs 14,000 and Rs 15,000 crore, around Rs 3,000 crore higher than the last year.
"We welcome the reduction in prices. With the fall in prices, sales should recover rapidly on a month to month basis and if no further obstacles come up, should reach pre-Covid levels on an annualised basis in 6-9 months," said Vinod Giri, director general, Confederation of Indian Alcoholic Beverage Companies.
The above news was originally posted on www.telegraphindia.com