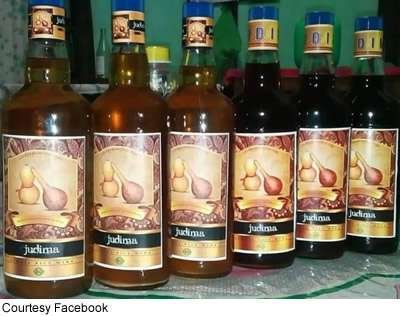 Oct 01: Made from sticky rice, steamed and mixed with traditional herbs, the tribal wine called JUDIMA with a distinct sweet taste, produced by the Dimasa women tribe of Assam, was granted a GI tag last week, making it the first wine that the tribal district of North East India to have received the prestigious GI, writes Subhash Arora
Promotion
Promotion
The wine has a distinctly sweet flavour and takes around one week to ferment but can be stored for years. Various other tribes in the north- eastern region traditionally make several types of wine and country liquor and consume them among themselves. Interestingly, Judima is made mostly by women.
Following suggestions that it would be better to apply for the GI tag through a women's group, a group called Dimajik Hasao was formed to re-apply in 2019 after the first attempt in 2018 did not succeed. The GI tag might have been awarded the same year 2019, but for the pandemic and finally it was released a week ago.
Many fruits, horticultural and agricultural products of the north-eastern states have already got the GI tags for their uniqueness and speciality but it is for the first time that a wine has received this success. Besides ensuring quality control mechanisms, the GI tag for Judima will enable those who have the right to its use, prevent its misuse by a third party whose product does not conform to the applicable standards.
The Assam Agricultural University (AAU) was at the forefront for preparing the application and it had relied on historical backgrounds while carrying out the documentation. It also worked closely with the Youth Association for Development and Empowerment (YADEM) of Dima Hasao district.
According to the Geographical Indications of Goods (Registration and Protection) Act 1999, geographical indications in relation to a product means an indication which identifies them as agricultural, natural or manufactured as originating in the territory of country, region or locality where a given quality, reputation or other characteristic of such goods is essentially attributable to its geographical origin. Feni in Goa is one such example of GI granted in the Alcobev industry.
Judima is thus the traditional rice wine of the Dimasa tribe of Assam. This tribe is largely based in the Dima Hasao district of Assam. It is an integral part of the cultural and social life of the Dimasa community. Celebrations of important rituals including birth, death, and no worship are complete without Judima.
The folklore in the community goes that a man belonging to this tribe carried rice wrapped in a banana leaf for his lunch. He hung the packet where the rice was kept on the trunk of a tree and went to work in the paddy fields. When he came to have his lunch, he found some liquid flowing out of the packet. When he tasted it, it was sweet. He figured it must have been the tree which had turned it into the sweet flavour. Since then, the bark of that tree named Thembra has been used in the process of making Judima.
According to a Report in HT, Mukuta Hojai, executive member of Dimajik Hasao says, "Judima is traditionally made in our homes, but we wanted to brand it and market elsewhere and also to ensure its preservation for the future. That's why we formed our women's group and applied for the GI tag.  'Now that we have got it, we are looking at branding it and selling it in unique bottles shaped like a locally available gourd. We are also trying to ensure that the product is prepared in a universally accepted hygienic manner, maintaining uniform taste, flavour, texture etc."
It might be decades however, before the product finds its way to cities like Delhi because of the uninviting excise policies.
Authored by Subhash Arora
The above news was originally posted on www.indianwineacademy.com and has been fetched through syndicated feed.