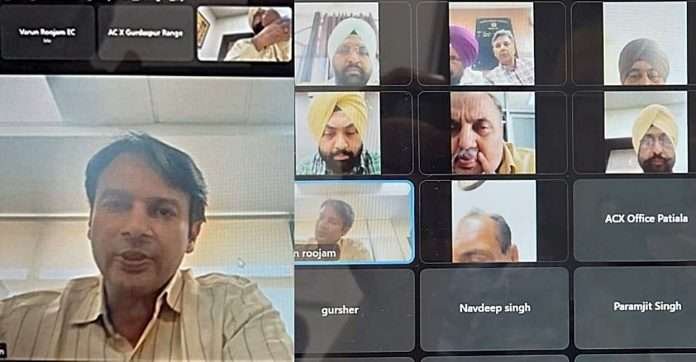 CHANDIGARH: Acting on the directions of Punjab Excise and Taxation Minister Advocate Harpal Singh Cheema, the Excise Commissioner Punjab Mr. Varun Roojam on Tuesday held a meeting with all the senior officers of the Excise Department for tightening the noose around Excise Liqour contractors resorting to hooliganism in the name of carrying out checking of vehicles and marriage palaces.
During this video conference (VC) meeting the Excise Commissioner took stock of the efforts made by departmental officers in doing away with this menace of unlawful practice of checking by some Excise Liqour contractors . As per the directions issued by Financial Commissioner Taxation Mr. Vikas Partap excise department should tighten the control on these elements to totally eliminate the harassment to the general public at the hand of some of these miscreants.
During this meeting, Excise Commissioner passed strict directions to the officers that there will be zero tolerance towards such unlawful, malicious, and aggressive behaviour of licensees. He specifically ordered that under no circumstances the Excise licensees shall be allowed to take law into their hands by carrying out checking in the absence of the Excise staff. He emphasized that it is the duty of concerned Excise officers or Excise inspectors to carry out such checking of vehicles and marriage palaces wherever necessary and for this purpose he advised that district-wise roster of Excise inspectors should be strictly enforced .
He also directed the officers that no vehicle belonging to Private Excise licensees shall bear any Excise related sticker or banner on it and if any such vehicle is found on the road, the same shall be impounded immediately. He conveyed to the officers that the Chief Minister Bhagwant Mann led Punjab Government is committed to provide safe, healthy and harmonious social environment to the people of Punjab and therefore there is no room for such socially unacceptable and legally unlawful activities of Excise Liqour Contractors.
He further added that any lapse in this context by anyone will be viewed seriously and strict appropriate action against them will be taken as per law.