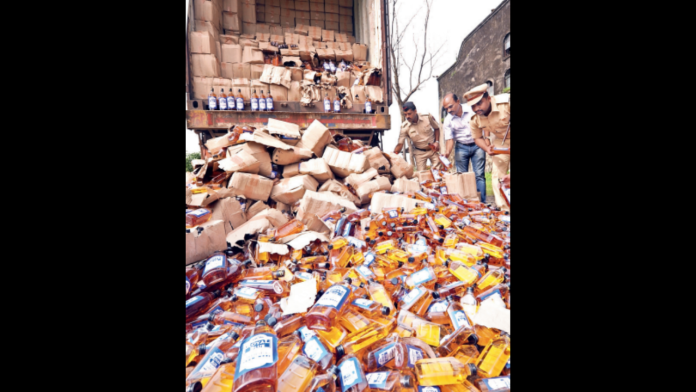 HYDERABAD: The Telangana government is losing anywhere between ₹100 crore and ₹150 crore every month to liquor smugglers who sneak in booze from states where it is comparatively cheap.
Promotion
Sources in the government told STOI that given Telangana's need for financial resources, especially for its cash-guzzling welfare schemes, it can't afford this massive leak. Excise earnings are the main source of revenue for the state after Goods and Service Tax (GST).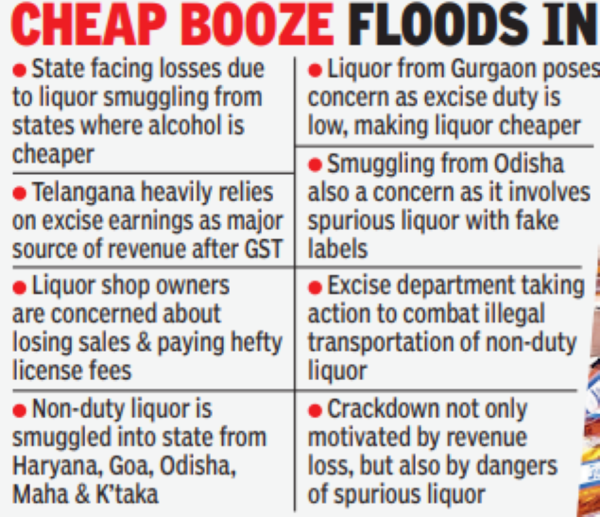 Liquor shop owners have also expressed concern over losing sales as they pay a hefty license fees.
Sources told STOI that maximum non-duty liquor reaches Telangana from Haryana, Goa, Odisha, Maharashtra and Karnataka states, all of which sell it at much lower rates. The biggest concern is Haryana, especially liquor from Gurgaon. Excise officials recovered 87 bottles from railway coach attendants on the Hissar-Secunderabad Express recently. Similarly, excise police officials seized nearly 1,600 bottles from a container vehicle, which had a secret room behind the driver's seat and stored in a godown in Medchal-Malkajgiri district.
Liquor from Haryana is cheaper as the excise duty is low. Telangana collects 200% to 250% permit fee on liquor manufactured above the state's requirement. In Haryana, manufacturers are allowed to produce more liquor by paying a lower fee.
Smuggling from Odisha is another concern as it is spurious and bottles have fake labels. A few months ago, illicit liquor packaged as popular brands worth ₹10 crore was seized. "While rectified spirit is not allowed in Telangana, Maharashtra does not have restrictions and is available for ₹60," an official of the state excise department said.
Chief minister K Chandrasekhar Rao has recently asked the excise department to crack the whip on illegal transportation of non-duty paid liquor by coordinating with airport, transport companies, transport department and railway authorities.
"The excise department is holding coordination meetings to beef up surveillance on state borders and important locations like airports and railway stations. Even goods vehicles coming from other states are being checked," state excise minister V Srinivas Goud told STOI.
He insisted revenue loss was not the main reason for the crackdown.
"In our state, liquor comes from manufacturing units directly to depots after a quality check. If spurious liquor reaches the market, people can lose their lives. For instance, Odisha liquor is made with ethanol and packed with fake labels."