Jan 03: Sparkling wine industry in India was started by Shamrao Chougule of Indage in 1982 and has evolved into a formidable part of the Indian wine market, growing faster than the still wine segment, propelled further by the lower-ended Wines-in-Can being the latest arrivals, writes Nashik-based Sparkling wines specialist producer Ashwin Rodrigues of Good Drop Wine Cellars, who conducted a Masterclass at the Vinexpo India organised from 9-11 December 2021 at the Pragati Maidan, and who was very optimistic about Italian Prosecco styled wines and newer investments thanks to the benchmark of quality set by Chandon India and increased consumption with food. Subhash Arora reports
Promotion
Promotion
Although Grapes were grown in India for 5000 years, Post- Phylloxera, Sparkling wines were first introduced by Champagne India  Ltd  ), set up in 1982 by Late Shamrao Chougule  as 100% export oriented  unit for manufacture of sparkling wine in technical collaboration with Champagne Technologie & Piper-Heidsieck of France.  It  was  later  incorporated   as  Indage and in 1985 converted to a  Public Ltd Company in 1987.
It took nearly two years for Champagne Technologies of France to decide upon the town of  Narayangaon in  Sahyadri valley to be the idyllic setting for a world class winery  and vineyards and collaborate with the company. CIL is also credited with pioneering the using of ancient varieties such as Arkeshyam and Arkavati grapes along with Thompson seedless and Bangalore Purple.
Pimpane Co-operative India  Ltd.was a cooperative of 4500 members that started another winery in 1989 to export sparkling wine internationally with Madhe Rao More as the Chairman and a collaboration with the Champagne House Charbaut et Fils. Marquise de Pompadour & Omar Khayyam were largely accepted by Indian consumers for quality and won many international awards.
Also Read : Fratelli may soon lead Wine-in Can (WIC) Segment in India
In the late 80s, Kanwal Grover and his son Kapil Grover set up Grover Vineyards Pvt. Ltd near Bangalore. Grover merged with 'Vallee- De- Vin' in 2012 to form Grover Zampa. Vallee de Vin was set up in 2006 with Zsmpa as their star label.
Sula  launched their first sparkling wine around 2001 with Thomson Seedless grapes. Over the years they experimented with  French varieties including Chenin and Syrah  to add more complexity to their sparkling wines and launched Sula  Brut & Sula  Brut Rose.
In 2006, 'Vallee de Vin' was set up by with Zampa label. They launched a range of sparkling wine label 'Zampagne' in 2009, which was however soon discontinued apparently due to pressure from the Champagne Association. The merger of 'Grover Vineyards' with Zampa resulted in a new label- 'Zampa Soiree'  Brut & Rose.  Ever since, several others companies including 'Fratelli' have entered the Indian  market.
Also Read : Rodrigues: Sparkling Man from Rio and Casablanca
In the  meantime  international Champagne  house Moet & Chandon which had been importing and selling champagne fromearly 2000 saw the huge success of sparkling wines in India and set up Domaine Chandon India and a state-of-the art  winery in Nashik, using a mix of Chardonnay,  Pinot Noir, Chenin Blanc  and Syrah. With a team of international and Indian winemakers and viticulturists, setting a new benchmark in terms of quality and price and giving  a better value for money sparkling wines as an alternative to Champagne.
Good Drop Wine Cellars also launched  its flagship brand Casablanca Sparkling Wine using Charmat Method  in the year 2012. and has won several awards
The 'beerification' of wines has been going on for the last 10 years . With leading companies driving the premiumization agenda, several innovations are taking place in the Alco – bev space, notably the 'Wine in Can' (WIC) segment. The though that only cheap wine can go in a can is being sought to be proven wrong. Cans are eco- friendly; recyclable, easy to transport and store.
Sula was the first to launch the 'Dia Sparklers' red & white for Rs. 180 in a can. This was followed up by Fratelli who  launched TILT red, white and bubbly.Good Drop Wine Cellars launched its favourite Rio Strong and Rio Strong extra dry in 500 ml cans at Rs.150 in Maharashtra last year.
Source Fratelli may soon lead Wine-in Can (WIC) Segment in India
Good Drop Wine Cellars: The disruptor
Good Drop Wine Cellars is India's first specialist sparkling wine producer.  It all began when chartered accountant turned winemaker, Ashwin Rodrigues identified a niche in the blossoming Indian wine market.  After honing his skills in the craft of wine making from Australia's famed Barossa Valley, Ashwin set out on a mission to produce quality wines that were great on value, but more importantly, suited to the Indian wine drinker.
'Our winemaking journey began in 2011 with  Rio  Fizzy Wine being made at a contract winery.  Before long, our own state- of-the-art winery was set up in Nashik. The sprawling was facility built specially for sparkling wine production. A year later, India's first Charmat method sparkling wine, Casablanca was launched. Then in 2015 we acquired the rights of Good Earth Winery to add still wines to our portfolio,  making us a complete wine producer', said Ashwin as sparkling wines were poured from his winery.
'In the years that followed  we have added many more wines to our portfolio, and today we have the largest range of sparkling wines in India. Our versatile range arms us to expand our reach by catering to customers across various demographics, wine categories, and price points. With a highly motivated team and a  presence in 15 Indian states, Good Drop Wine Cellars is well on its way to redefining wine and wine drinking culture in India', said Ashwin.
Ashwin also talked about the Subtropical , loamy and gravel soil in Nashik. The rainfall varies from 500 mm to 1000mm. The elevation is 800-900 meters above sea level and temperature varies from 10 -38 deg. C with humidity varying from 25-95%, with most of the vineyards irrigated by drip irrigation system.
INDIAN  WINE  STATISTICS  
Annual Consumption of sparkling wine is still 5% of the total sales but increasing its share slowly with 80% of the consumption being in Tier 1 and tier 2 cities. In terms of pricing most popular category is Rs. 500-800 although super premium variants like Chandon sell for as high as Rs. 1700 a bottle.
Ashwin also touched upon the various processes and the difference in costs.
SPARKLING WINES AND  INDIAN  FOOD
Sparkling Wine stimulates the appetite and is best consumed as an aperitif.  Especially a Chenin sparkler with  beautiful tropical fruit aromas with fried  Indian foods like pakoras, samosas, tandoori tikkas, fish fingers since their acidity cuts into the fat. They are palate cleansers and so can be sipped between intervals in a meal. Syrah  Rose goes best with a  Mutton  Biryani & kebabs, especially a sparkling Syrah.
Semi-sparkling wines go especially well with curry as the fine and delicate bubbles refresh the palate and provide a balanced acidity.  Meaty curries would go great with a red sparkling wine such as sparkling Shiraz and sparkling red Lambrusco.
Also Read : Launch: Sula Sparkling Revival
Floral and fruit driven  Rieslings with  high acidity and residual sugar can be a good combination with  many Indian foods. Drier sparkling wines go well with seafood dishes like the Goan Fish curry. The tanginess in sparkling wines, is perfect for counterbalancing the sweet notes of the pizza dough.  Its lightness goes well with delicately flavoured  ingredients such as mozzarella, vegetables and olives.
Sweet dishes like Guiab jamuns and jalebis will go with sweet sparkling wines made with Riesling and Moscato. Ashwin cautioned however, avoiding  sparkling wines with dishes heavy on chilies and pepper.
FUTURE OF SPARKLING WINES  IN INDIA
• Champagne and Sparkling wine are restricted to occasions as per traditions.  But we are seeing the number of occasions are increasing as people are celebrating the smaller achievements and victories.  Lots of young adults and women have taken a fancy to sparkling wines. As per reports,  Indian sparkling wines will grow at CAGR of 15 -20 % annually. Since Champagne is high priced, Indian sparkling wines made with Charmat method are perceived to be 'better value for money'. They are also more fruit forward and are easily enjoyed by Indians.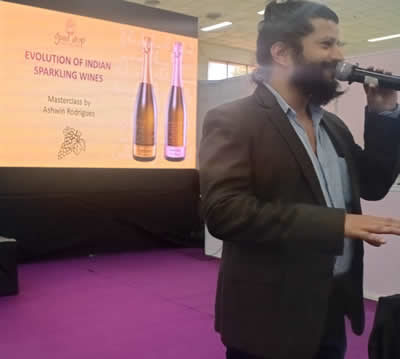 • Today sparkling wines as a category is picking up due to its popularity with Sunday Brunches, cocktails culture and 'By the Glass' promotions in the On -trade. Sparkling Wines are suited to business and festivities gifting. With  lots of food and wine pairings events, wine tasting festivals focusing on sparkling wines has led to consumers taking interest.
• Growth in international tourists will  lead to increased sparkling wine consumption and with that awareness Indian sparkling wines will  have a future in exports to International  markets. Earlier most sparkling wines were consumed in restaurants and bars. After the pandemic,  people are celebrating more at homes so retail sales of sparkling wines from wineshops have picked up.
Also Read : 'Champagne de Pimpane' to be 'born again' soon
• With increasing international travel and exposure to cuisines and taste, the discerning Indian customer with higher disposable income  is more experimental and adopting western influences; young adults are taking on to sparkling wines.
• With the entry of smaller boutique wineries, hoteliers have far more options with different  styles of sparkling wines leading to lots of interest and consumption.
• With multi nationals like Chandon in the country, there would  be renewed interest from other players leading to more investment, research and awareness in consumers.
Subhash Arora
(With inputs from Ashwin Rodrigues)
The above news was originally posted on www.indianwineacademy.com