Radico Khaitan, a spirits company renowned for its affordable brands, is shifting its strategic focus to its premium and luxury alcohol offerings in a bid to safeguard profit margins, according to industry analysts.
In the previous year, Radico Khaitan's Prestige and Above (PA) category outpaced its standard category, showing notable growth in terms of both revenue and sales volumes. The PA category within Radico Khaitan's portfolio includes distinguished brands such as Rampur Indian Single Malt Whiskey, Royal Ranthambore Whiskey, Magic Moments Dazzle Gold Vodka, and others.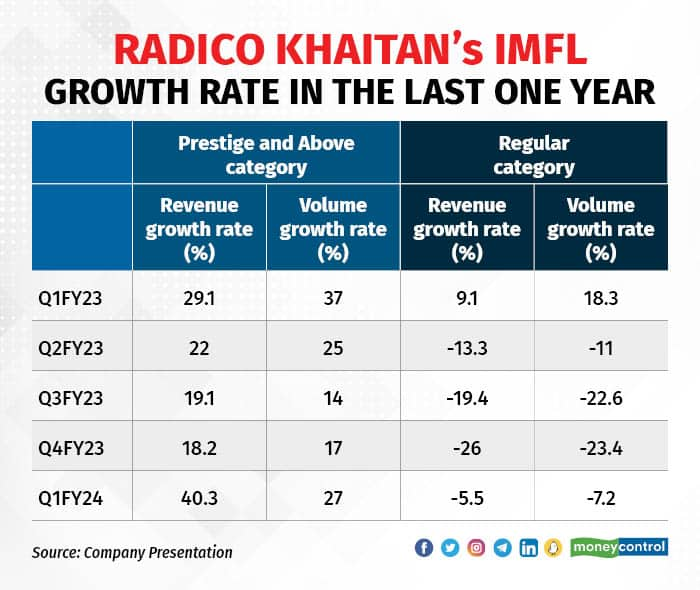 As per the reports of Moneycontrol, the spirits industry has been grappling with rising input costs. Within the standard category, where products are already competitively priced, Radico Khaitan faces limited profit potential when raw material expenses surge. In contrast, the premium category, characterized by higher price points, serves as a safety net against escalating production costs, they noted.
Ajay Thakur, the lead analyst for consumer staples at Anand Rathi Shares and Stock Brokers, stated, "Even in the face of high glass and extra neutral alcohol (ENA) costs, Radico Khaitan's PA segment is expected to maintain a decent margin compared to the regular segment."
Promotion
Another analyst pointed out the challenges Radico Khaitan faces in increasing prices of its standard brands and boosting profit margins when raw material costs are elevated. They explained, "Given that the alcohol industry is heavily regulated, companies cannot raise prices of their brands without consulting state governments."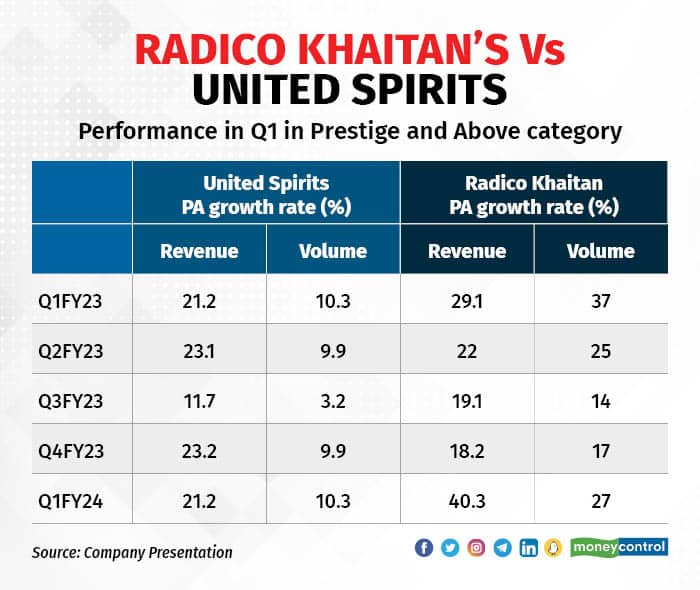 Outperforming the Industry Leader
In the April-June quarter, the growth of Radico Khaitan's premium category spirits outpaced that of the industry leader, United Spirits. This success was attributed to Radico Khaitan's consistent introduction of new products that gained consumer acceptance.
Kaustubh Pawaskar, DVP Fundamental Research at Sharekhan, highlighted, "Radico Khaitan is not only launching new products but also expanding the presence of these products, which is expected to contribute to the company's revenues."
However, in terms of EBITDA margin for FY23, United Spirits led with a 13.5 percent margin, whereas Radico Khaitan followed with an 11.4 percent margin.
What Lies Ahead?
Analysts predict that the share of Radico Khaitan's premium category in total revenue and sales volumes is poised for growth. In FY23, this category accounted for 37.5 percent of sales volumes, compared to 30.2 percent in FY22 and 29 percent in FY20.
Pawaskar projected, "Radico Khaitan's PA category is expected to contribute 40 percent to its total IMFL volumes by FY25."
India's alcohol market is predominantly driven by whiskey, followed by beer and wine. According to a report by Nuvama Institutional Equities in August, the prestige segment holds a dominant 50 percent market share by volume in the Indian whisky market, a figure expected to rise to 53 percent by FY25.
In terms of value, the premium whisky market is anticipated to grow by 33 percent by FY25, compared to 31 percent in FY21.
The growing prominence of premium brands in the whiskey-dominated alcohol market has compelled companies to increasingly focus on this segment.