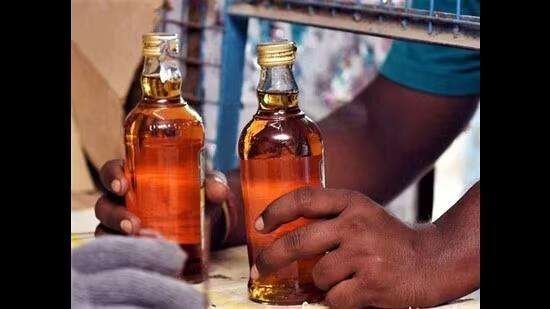 The UT excise and taxation department is staring at a ₹150 crore loss this financial year with 18 of its liquor vends finding no takers even after 18 rounds of auctions.
The revenue was to come in the form of licence fee of these vends. The fee ranges from ₹3 crore to ₹15 crore depending upon the location of the vend.
The department has now proposed to increase the liquor quota of the existing liquor vends, which will each get 5,000 cases extra. At present, the quota of each vend is 18 lakh cases per year. The move has however not gone down well with the liquor contractors in city. This is because, as per the existing policy, the UT penalises contractors for un-lifted liquor boxes. If the liquor remains unsold, there is a penalty of ₹900 per case on Indian Made Foreign Liquor while on foreign liquor, the penalty is ₹3,500 per case.
Darshan Singh Kler, the owner of Kler Wines, who acquired six liquor vends in the auction held on March 15, criticised the UT's excise policy as well as its latest plan. He said that increasing their quota would be detrimental to them as they are already facing losses due to the policies of Punjab.
For perspective, the value-added tax (VAT) charged in Punjab is much lower than Chandigarh. While the VAT is Punjab is 1%, of the ex-distillery price or the EDP, in Chandigarh it is 12.5%, due to which people prefer buying liquor from the neighbouring cities instead of UT, thus leading to losses to the city's contractors.
When contacted, a senior excise department official confirmed that they have recommended enhancing the liquor quota for the existing establishments instead of going for another round of auctions. The official added that the excise policy explicitly allows for such quota increments. They are presently awaiting the final approval from the relevant authorities.
UT has 95 liquor vends in all, of which 77 have been successfully auctioned off. The UT tried in vain to find takers for the remaining vends and even slashed the reserve prices by almost 50%, a first in the city's history.
The last round of auction was conducted on July 18, representing the fifth consecutive auction where no bidders were attracted.
Notably, the UT consistently underperforms each year. Liquor contractors attribute this to an imbalanced tax structure in comparison to neighbouring cities in Punjab. While officials acknowledge this discrepancy, the department has failed to address the issue. Last year, three out of the 96 vends on offer remained unsold. During the 2022-23 period, the UT excise and taxation department managed to sell 93 out of a total of 96 liquor vends across seven auctions.
For the financial year 2023-24, the department has established a revenue target of ₹830 crore from liquor vend license fees. However, they have only managed to collect around ₹500 crore so far.