The sales of Indian single malts have caught up with their rivals from Scotland due to growing appetite of consumers to take homegrown brands, which do not
come cheap.
In 2022, the sales of Indian malts shot up 2.4 times to 2,81,000 cases, while Scotch (single malt) sales rose 35% to 2,96,000 cases, according to industry data accessed by
TOI. A year ago, Indian brands accounted for around a third of the market, compared with 15% five years before that, TOI had reported in March 2022.
Promotion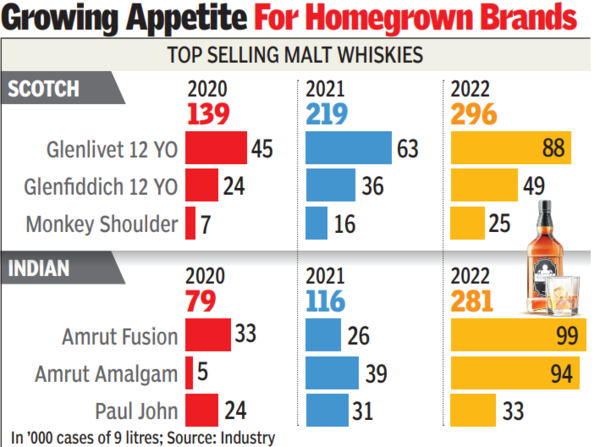 Two Amrut offerings are on top of the heap, and bigger than Glenlivet, followed by Paul John (see graphic). Singleton sales have shot up in recent years and were estimated at 22,000 cases in 2022, while 10-year Talisker sold around 14,000 cases. Among the Indian malts, Solan Gold sold 20,000 cases, while Rampur was at around 10,000 cases.
"Indian players are now making exceptionally good single malt whiskies, which are comparable to all others. Within Indian itself, we are able to produce good standards and
are reasonably priced. We are trying to cater to demand globally. Things might change (for us) going forward due to free trade agreements," said Rakshit Neelkant, managing director of Amrut.
"As of now there are about eight-nine distilleries with their own single malt whisky brands. This number is growing which brings one to the matter of ensuring quality and consistency, a must for a global brand. CIABC is working with the domestic industry and government agencies to evolve product and process standards that ensure product quality uniformly and consistently for Indian malt whiskies," said Vinod Giri, director general of lobby group Confederation of Indian Alcoholic Beverage Companies (CIABC).
With income levels on the rise, Indians are now willing to spend more on alcohol, which has resulted in the demand for malt whiskies rising, although they still make up a very small share of the pie. The overall whisky market in India is pegged at 242 million cases, which is around two-thirds of the overall spirits market.