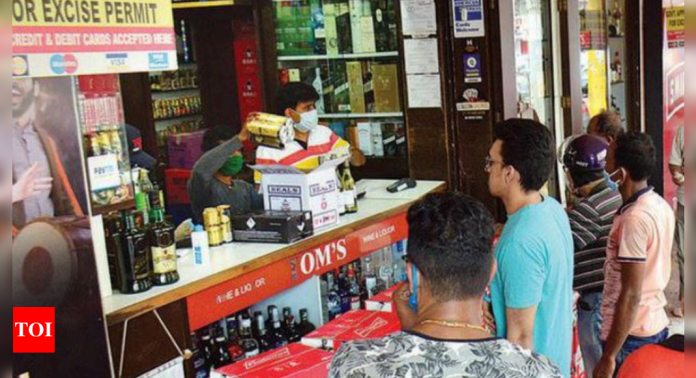 PANAJI: Even as liquor traders have claimed a loss of business with foreign liquor costlier in Goa than in some North Indian states, the excise department has recorded a 36% rise in revenue from foreign liquor sale in 2022-23. There was also an overall increase in revenue, with the government collecting Rs 865.6 crore, a 30% rise over the previous year.
"If the business was so down, how would revenue from foreign liquor sales go up," asked excise commissioner Narayan Gad.
'Increase in revenue is substantial even as duty not hiked since 2020'
In 2021-22, the revenue from foreign liquor sale alone was Rs 60 crore when the total collection was Rs 649.9 crore, while the following financial year, it went up to Rs 81.5 crore.
Gad said that the jump in revenue has been substantial even as they have not hiked the duty since 2020, except that on beer, but that too only in 2022-23.
The increased revenue, Gad said, can't be credited to the raised duty but because sales volumes went up.
On Thursday, Dattaprasad Naik, president, Goa liquor traders' association, told reporters that they have comp- letely lost the north Indian market, and they are now totally at the mercy of south India. Another official who did not want to be named agreed, stating, "Bigger states enjoy leverage over Goa with theirvolume of trade being large, and they're able to bargain for better prices from suppliers".
The pricing, he said, has been a concern for them too, but it is not as if Goa's trade is completely lost.
The officer stressed that Goa has the most robust excise policy compared to other states, and is preferred by liquor manufactures.
A source said that the government has been examining excise policies of other states and may lower excise duty only after understanding what's at play.
It is anticipated that Maharashtra and Karnataka may also modify their excise policies in the months to come.
"We want to see what they do. Karnataka has recently got a new government and it may take more time, but we have information that it will also tweak its excise policy," the sources said.