VIJAY Prakash can't stop smiling at his pride of joy – a bucketful of the best alphonso Ratnagiri mangoes, all 28 kilos, handpicked by him, and flown to Chandigarh to curate the summer essential – alphonso mango craft beer.
"Just look at them, the colour, the sweet smell, they are perfect," says this Beverage Head (North & Central India), Impressario, as he balances the equation and preps the system to commence the brewing process at SOCIAL microbrewery Sector 7, Chandigarh. Meanwhile, brewmaster Gagandeep welcomes a good lookin' lot of alphonso mangoes at Hops n Grains Microbrewery (Mohali) and The Great Bear Kitchen and Microbrewery Sector 26, Chandigarh to craft the ultimate summer cooler, mango beer.
Promotion
"Mango beer is a refreshing beer with a slight tinge of tanginess counteracted with the sweetness and fruitiness of the mangoes. We brew using the freshest and plumpest Alphonso mangoes, and this fresh glass of beer is the perfect antidote to scorching summer," says Gagandeep, an award-winning master brewer who has been working with Hops n Grains for the last 13 years now.
"What makes mango beer distinct is that it's fermented through exposure to wild yeasts or native as opposed to the carefully cultivated strains of brewer's yeast. This process gives the beer its distinctive flavour – dry, vinous, cidery, often with a pleasant aftertaste and lasting feel to it," chips in Vijay.
With the Tricity witnessing a surge of microbreweries/beer pubs springing up all over, two master brewers – Vijay Prakash and Gagandeep give a lowdown on artisanal craft beers, the demand for it, and how it makes for a very interesting career choice.
"A decade back, bottled beer was the choice. It was easily available, and people were used to it.  But I've seen a massive shift ever since craft beer came on the scene – from four varieties to now 80 varieties of craft beer we've worked on here, at Hops n Grains," says Gagandeep, adding how educating the consumer was one of the key challenging factors for the rise and acceptance of craft beer.
"As opposed to the rice used for bottled beer, craft beer is 100 per cent barley and that's what makes it easy and better suited to the system," adds Gagandeep.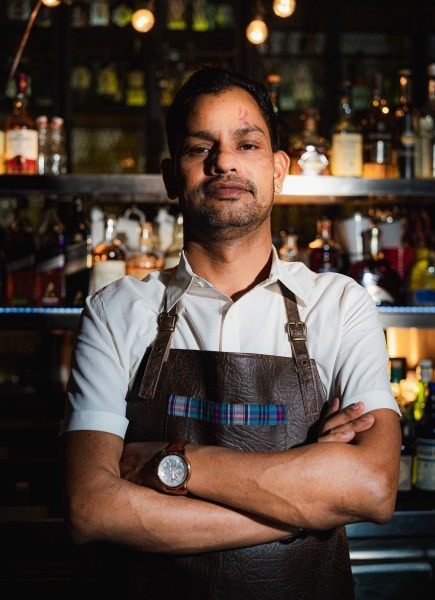 Beer is the first alco-bev most people start with right after their sodas. As a rule, Vijay Prakash, who has most of his brewer team from Pune here, insists on educating the customer. "Most of the time, youngsters have little clue about a drink. Beer, for instance, must be started from the lightest to the strongest, progress slowly, and enjoy it. On our end, we try to educate and offer the beer best suited to the age group, the person trying it," says Vijay, as he presents a chilled line-up of his favourites to taste.
While Gagandeep is a BTech in Biotechnology, and took to crafting beer for the unlimited potential of experimentation and innovation it offers, Vijay, who is from Mumbai, was drawn to the hospitality sector as a whole, and started his career as a sommelier. After spending years in Bordeaux France as a sommelier, a mixologist in Berlin's Carlton, it was in Prague where he was exposed to the finest craft beers and the process of making it. "What makes a beer stand out is the water.
It is the most vital component, and we keep a strict quality check on the total dissolved solids, the mineral levels etc on a weekly basis at all our microbreweries," says Vijay, who joined Impressario in 2005. Gagandeep agrees. Water is the game changing element, and it differs in the Tricity too, he says. Then come the hops and malt – while Vijay sources them from France and Germany,  Hops n Grains imports theirs from Germany.
The third element is the ingredients, the seasonal fruits. "Every fruit has a different acidic point, different proportion and accordingly the malt is selected," says Gagandeep. Intrepid research, a tab on the fruits and ingredients to play with, innovative methods and tools, rounds of experimentation – crafting artisanal beer is a pretty exciting and challenging process, one that demands constant check and hygiene.
"We've had to destroy batches over failed experiments," they both share, never giving up on the quest for the perfect brew to quench the thirst. Clearly it's the passion that drives them, especially when they are not drinkers themselves! "I may not drink, but I know a good drink when I see one," chuckles Vijay. The zeal to explore, experiment, travel, learn, – a career in craft beer requires all this. "100 per cent dedication. It's not a part time job, and one preferably requires a minimum qualification of graduate in science or BTech in biotechnology or alcohol sugar-tech," says Gagandeep, adding how it's a 'gender blind' career.
Experience makes a difference because the brewmaster knows what to give on tap and resolve any issue quickly without hampering beer production and quality. In the end, customer satisfaction and beer consistency trumps it all.
"Like America in the 1990s, microbreweries are in the growing phase here in India, and in Chandigarh we've seen a rise in brewers and consultants. The only way we can sustain it is by sustaining the quality, by keeping abreast of developments in the industry, of competition, of new variants, of knowledge of food too, what to pair with the drink – for instance, for Mango beer, Corn jalapeno Seekh Kebab, the spicy jalapeno taste well with sweetness of mangoes, so do Quinoa salads.
The spiciness of Angara Chicken tikka balances with the sweetness of Alphonso mangoes, while BBQ Pork Ribs tossed with homemade sweet and spicy BBQ sauce and chard grilled pair well too," says Gagan.   Variety is the spice of life, and after mangoes, Gagandeep's eyeing watermelon and jamun, and even kokum. Tapping in for that!
The above news was originally posted on news.google.com