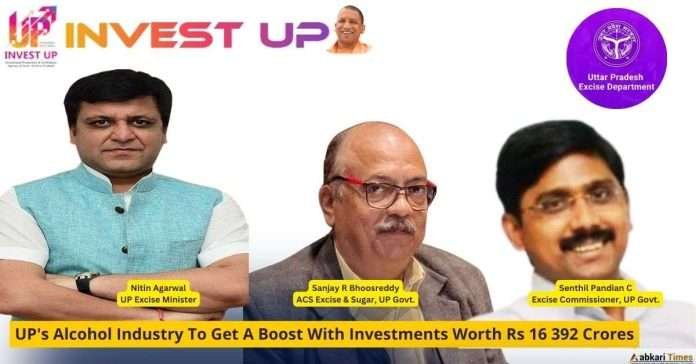 Uttar Pradesh's alcohol sector is all set to get a shot in the arm with investments worth Rs 16,392 crores. According to the state's excise department, ahead of the Global Investors summit, the department has signed 17 MoUs for setting up industries based on distillery, brewing and alcohol products. Along with this, letters of intent have been given for investments worth Rs 1400 crore.
It may be mentioned here that the state government, led by Chief Minister Yogi Adityanath, is organising the Global Investors Summit from 10 to 12 February 2023 in Lucknow. All the state government departments have been given a target to invite investors from across the globe.The state's excise minister Nitin Agarwal had set the target for the department too and instructed the officials to simplify the rules to ensure more investors coming to UP.
Apart from the MoUs, more investors have shown their interest after an official meeting with the excise department. The Additional Chief Secretary Excise, Sanjay R Bhoosreddy had called a meeting along with the Excise Commissioner Senthil Pandian C to meet the potential investors on 13 January. 43 investors participated in the meeting and after the meeting, 16 filled the necessary documents through the online registration on the Nivesh Saarthi portal to show their intent for an investment of Rs 5,029 crores.
The investors were informed about the various industries related to the sector that are being promoted by the department. These include distilleries, breweries, microbrewery, yeast units, malt manufacturing units and caramel manufacturing units.
The ACS also informed that the state government has issued a mandate regarding the approval of distillery establishment from different feeds such as molasses, grains, potatoes etc. The investors were also informed that since 2015, the rules have been eased for the establishment of microbrewery in the hotel bars located. With a view to promote horticulture in the state, the state government has made arrangements for exemption of tax on wine for five years for making fruit wine by obtaining fruit from Uttar Pradesh.
Bhoosreddy also informed that total 17 investors have signed MoUs for setting up industries based on distillery, brewing and alcohol based industries in the state.
---