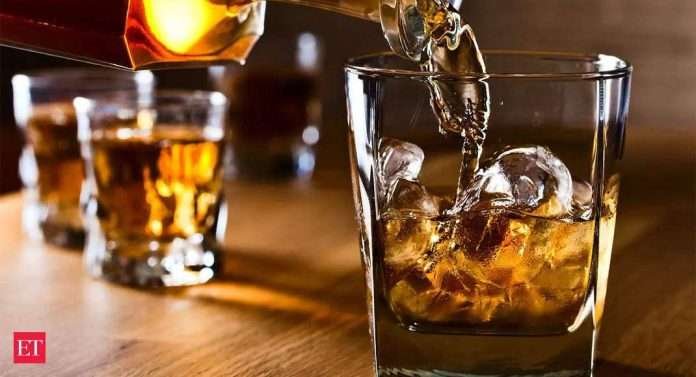 Anheuser-Busch InBev has launched a whiskey brand in India, the first instance by the world's biggest brewer to enter the category globally. The move is part of its wider strategy to enter premium categories beyond beer, especially in the world's largest whiskey market.
"The experience we have had with beer and premiumization is a very similar trend that would play out in whisky as well. Our entry, therefore, is to place a bet on this premiumisation trend playing out in the whiskey segment which is consistent with Magnum's positioning and extending out the same high quality cues in the adjacent category with a new blend that hasn't been seen in India before," said Kartikeya Sharma, president, India and South East Asia at AB InBev, which sells Budweiser and Corona.
The company has partnered Sazerac, which has a stake in John Distilleries, to make the whiskey brand Budweiser Magnum in its Goa factory. The brand is made with a corn whiskey blend imported from the US mixed with Indian malt, and will be initially sold in Goa, Maharashtra and Haryana.
In September, ET was the first to report that the American alcobev firm will enter the spirits market by launching whiskey and gin brands. While global companies such as Diageo and Pernod Ricard dominate the Scotch segment, AB InBev said there is still room to grow in the premium end with a differentiated offering.
"There is no taking away from the fact that there are manufacturers who have been in this space for a very long time. But that in no way represents an inability for a new player to enter. A validation from consumers, who in multiple line tasting sessions have rated the Magnum double barrel liquid far and ahead from the many other liquids that were put in the same research," added Sharma.
According to IWSR Drinks Market Analysis, scotch is among the fastest growing categories with growth of 42% in 2021.
"India is unusual in that spirits demand is significantly more developed than that for beer. While there is some interplay between the two among bang-for-buck consumers, there were some signs that demand for beer was beginning to develop separately. As the largest whiskey market in the world and the second-largest importer of Scotch behind France, India has a ready audience of consumers aspiring to be Scotch drinkers. India will remain on the radar for all as a priority market, with a strategic goal of sustaining this evident premiumisation," added the IWSR report.
India is the fifth largest market for Budweiser by volume for the American-Belgian multinational parent globally. AB InBev, which produces one in four beers around the world, generated nearly a third of its sales from premium brands in India two years ago. The contribution of pricier brands that also includes Stella Artois, Hoegaarden and Corona has now increased to nearly 60%, which helped the firm turn profitable last fiscal.