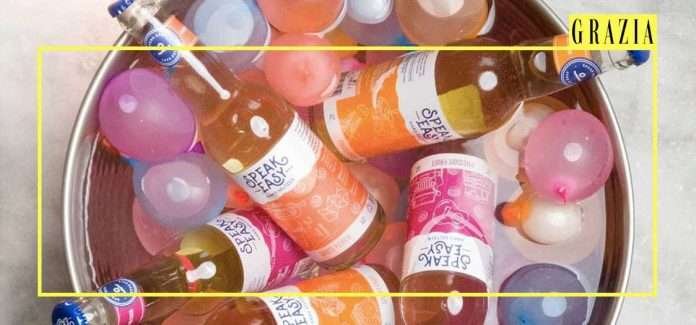 If you ask me, the greatest invention since sliced bread would be alcohol in a can. And no, I am not talking about beer. Even as gin has become one of the most sought-after spirits in the Indian market as more and more homegrown labels come out with new iterations of the herbaceous spirit, there's a hot new entrant in the scene that is creating a lot of buzz (pun intended). Say hello to the hard seltzer. Simply put, hard seltzer is carbonated water with fruit flavouring and just a teensy bit of alcohol, or as we like to say, just enough to get you in the party mood. Most spiked seltzers have an ABV percentage of 4-6%, but some seltzers in the market take it up a notch and may have an ABV percentage of up to 12% (as much as a beer, minus the calories).
Promotion
Promotion
As the seltzer fever builds up all over the globe, these homegrown brands ensure that we don't miss out on the craze.
1. Wild Drum
If you are the kind who likes a good buzz during the day and a proper rager at night, Wild Drum is just what you need. With two ABV variants (four percent and eight percent) and a whole lotta flavours, Wild Drum will be a sure-shot hit at your next party.
2. Pursue

As they like to point out, hard seltzers are free from conventions and expectations due to the lack of historical associations attached to the beverage. And Pursue takes full advantage of being experimental with them. With a workforce that comprises over 50% of women, the new-age seltzer brand believes in a zero-wastage policy and its packaging is made entirely of recycled waste. From nostalgia-inducing flavours like Mosambi & Mint and Mango & Chilli, they have found some really solid fans in us.
3. Barneys

One of the very first hard seltzers to hit the Indian shelves, this low-calorie, the zero-sugar drink started off as a lockdown experiment in Goa and has since then made considerable waves in the beverage industry. With seven flavours on offer, their website even tells you the perfect food pairings to go with your choice of seltzer.
4. Bro

This new youth-driven seltzer brand gives a new meaning to cracking open a cold one with your bros. With only 91 calories per serving, one might even call this healthy. While they are not widely available, if you end up coming across them, add them to the cart ASAP.
5. IST

New kid on the block, IST is another hard seltzer making its way up the ladder in the Indian alco-bev industry. With funky packaging and 2 citrusy flavours, IST sure as hell packs a punch, without the hangover, of course.
6. Speak Easy

One look through Speak Easy's Instagram profile, and it will instantly leave you wanting to lounge around under the Italian sun, sipping on their fruity seltzers without any of the guilt (they are gluten-free and contain natural flavours only). With flavours like Passionfruit, Guava, White Peach and more, choosing just one flavour will leave you in a doozy. Our suggestion, get them all!
7. Raya

Named after the place of its origin. Raya is distilled in the native village of Raia in Goa and fuses botanical spirits with fruits and alkaline water to create their pièce de résistance. The bubbly and flavourful drink is everything you want to be sipping on when the October heat sets in.
8. Spyk

While they haven't officially hit the market yet, we already have our eyes set on Spyk's hard seltzers. With only 100 calories per pint and various flavours, it's time to bid goodbye to the vodka-soda and say yes to this refreshing beverage.