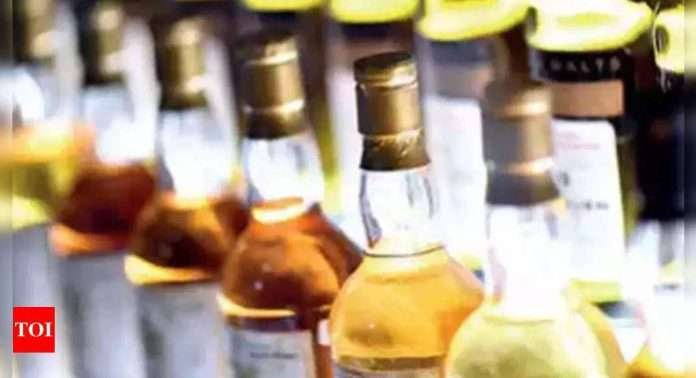 MUMBAI: The liquor industry, especially those selling Indian made foreign liquor (IMFL) and wines, have requested the state to allow them a hike in prices in the range of Rs 85 to Rs 125 per 750 ml bottle, depending on the respective segments and brands. This they claim is a bid to cope with the inflationary trends that have increased costs in production.
The International Spirits & Wines Association of India (ISWAI), a representative body of the national and international premium spirits & wine brands in India, has listed out reasons as to how different costs are forcing them to seek a rise. The ISWAI members include global leaders in both the spirits and wine industries, like Bacardi, Beam Suntory, Brown-Forman, Campari Group, Diageo-United Spirits, Moet Hennessy, Pernod Ricard, and William Grant & Sons.
As per the ISWAI estimates, wet alcoholic ingredients, such as extra neutral alcohol (ENA) and scotch, are now 5% more expensive than last year, while the cost of packaging materials such as glass bottles rose by 8%, cartons by 37%, and labels and closures by 5% and 15%, respectively, in just one year (FY21 and FY22 (est)). "Additionally, costs of wages and statutory fees are mounting, while the transportation costs have shot up by 68% between FY18 and FY22. As an example, the costs of a fast-moving brand in the value segment have increased by Rs 60 per bottle (750ml) compared to the previous year," an ISWAI statement said. Some of the top-selling IMFLs include Royal Stag, Imperial Blue, McDowell's No.1, Officer's Choice and 8PM.
Nita Kapoor, CEO of ISWAI said, "Prices are granted by states to manufacturers, and unlike the FMCG sector, manufacturers in the AlcoBev industry are unable to share the burden of inflation with the consumers. In many states, the manufacturer's price — ex-distillery price (EDP) — on liquor has been the same since 2017-18. This has compounded the problem where the inflationary pressure is the highest. States need to consider a balanced approach between supplier prices, volume growth, and taxation."
Suresh Menon, ISWAI Secretary-General, said, "The inflation rate based on the Wholesale Price Index increased to a record high of 15.1% last month where cost of almost all the items/products have risenThe liquor sector is thus facing challenges due to rising inflationary pressure."
"Rising inflation on all direct materials and the state's not according any relief on the costs is raising serious concerns in the industry over sustainability of operations in most states. The industry needs a predictable policy, and an inflation index to pricing," said ISWAI spokesperson.
Principal secretary (excise) Valsa Nair Singh said as of now her department had not received any industry proposal, but as and when manufacturing cost goes up, upon government approval, taxes and subsequently the MRPs go up automatically. According to sources, the industry proposal is presently being discussed at the level of excise commissioner who will eventually decide on the possible rise and then forward it to the department in Mantralaya for the final approval.