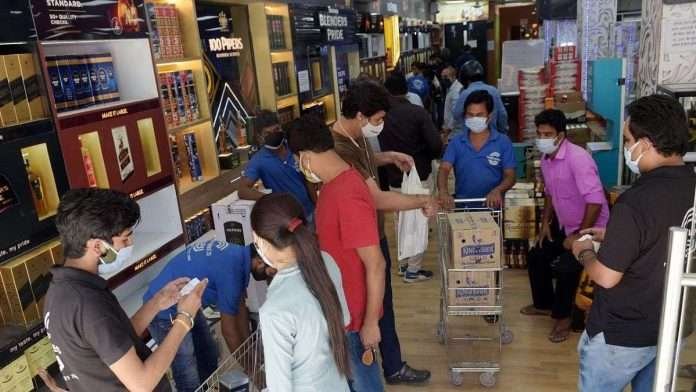 New Delhi: Reducing the prices of alcohol, boosting revenue and ending monopolies — these are some of the stated objectives of Punjab's new excise policy, which is being touted as a win-win situation for liquor consumers, industry and the state government.
Promotion
Promotion
Notified in May, the new excise policy also opens the doors for customers to shop for alcohol inside air-conditioned liquor outlets.
Another issue the excise policy aims to address is the revenue Punjab concedes to neighbouring states in the form of taxes collected on sale of liquor. Since alcohol was considerably cheaper there due to lower duties, many in Punjab were encouraged to buy liquor from Chandigarh and neighbouring Haryana.
Now, the same bottle of alcohol will reportedly cost 10-15 per cent lower in Punjab, compared to Haryana.
But Punjab's new excise policy has also met with some resistance, mainly from wholesalers who are saying that it dents their chances of survival. They are also objecting to the annual licence fee for L1 –  liquor licence
for wholesale supply of Indian liquor – being hiked to Rs 5 crore.
ThePrint reached state excise commissioner Varun Roojam through calls and email for clarification on concerns raised by wholesalers over the new excise policy. This story will be updated as and when a response is received.
Cheers for consumers!
What does Punjab's new excise policy mean for consumers? For starters, lower duties could lead to a reduction in the price consumers pay for their preferred alcohol.
These duties, levied on liquor at the point of wholesale, have been slashed by 25-60 per cent.
According to the new excise policy, all alcohol sold in Punjab will attract 1 per cent duty at wholesale prices, with the exception of PML and Imported Foreign Liquor (IFL).
For example, earlier, an excise duty of Rs 25 per proof litre (measurement unit of liquor) was levied on Punjab Medium Liquor (Punjab's country liquor or PML). The same was Rs 95-470 per proof litre on Indian Made Foreign Liquor (IMFL) and Rs 58-68 per bulk litre (1,000 millilitres) for beer.
What this means is that in Punjab, you will now have to pay less for a bottle of  Indian Made Foreign Liquor, like Jack Daniel's Tennessee Whiskey Old No. 7 or Ballantine's, among others.
Govt eyeing increased revenue
Despite the reduction in duties, Punjab government expects to generate Rs 9,647.85 crore in revenue in FY2022-23 from taxes on liquor and related businesses, at least on paper. This will mark an increase in revenue of about Rs 2,600 crore from the Rs 7,000 crore generated in revenue by the Punjab government in the previous fiscal year.
The government, according to the new excise policy, is banking on hiked fees for licences and other permits (for wedding venues, pubs, restaurants etc.) to make up for the loss of revenue it may incur due to slashed duties/taxes on the sale of alcohol.
Making up for the loss in revenue is a priority for the Aam Aadmi Party (AAP) government in Punjab which needs funds to fulfil its poll promises, including the provision of 300 units of free electricity from 1 July 2022.
In that sense, Chief Minister Bhagwant Mann faces the stiff challenge of dealing with Punjab's financial burden — the state's outstanding debt is expected to cross Rs 3 lakh crore this fiscal year.
Another key highlight of Punjab's new excise policy is the attempt to weaken monopolies dominating the liquor distribution chain. 
The policy says that a wholesaler, who is looking to obtain the necessary L1 license, must not have any stake in a manufacturer's operations. Moreover, it restricts a liquor manufacturer from bidding for a retail outlet.
"This is being incorporated to eliminate the scope of monopoly/oligopoly in the trade. In case of retailers and manufacturers/wholesalers being common entities, there is a possibility of formation of cartels leading to overcharging and brand influencing by entering into exclusivity arrangements with certain brands at the cost of exclusion of others", the policy document said. 
State excise commissioner Varun Roojam has publicly stated that the new excise policy aims to minimise 'mafia raj' in Punjab. 
Push for IMFL
A key takeaway from Punjab's new excise policy is that it signals a push towards IMFL in the form of changes to the 'lifting of liquor quota'. In industry terms, this quota is the fixed amount of liquor suppliers can lift or buy from the open market during a fixed period.
For instance, the state has kept the 'lifting of liquor quota' open for licensees for IMFL, IFL and beer, while capping the monthly guaranteed quota for PML at 6.03 crore proof litres for a period of nine months.
The quota on PML is based on 'lifting of liquor quota' figures from the preceding financial year 2021-22. 
However, the new excise policy specifies that the state excise commissioner "will have overriding powers to check on any abnormal lifting of stock with a mala-fide intent".
Furthermore, in order to make Punjab an export hub for IMFL, the new policy proposes rationalisation of the bottling fees and a reduction in the export fees — from Rs 4 per proof litre to Rs 2 per proof litre.
With the new excise policy, the Punjab government is trying to fill the gap between consumption of country-made liquor and Indian Made Foreign Liquor, believes Vinod Giri, Director General of the Confederation of Indian Alcoholic Beverage Companies.
"The Punjab government seems to have acknowledged the fact that the IMFL sector in the state is relatively underdeveloped in comparison to neighbouring states. IMFL sector is a high revenue earner for the government, so nurturing this sector absolutely makes sense. Government tends to gain higher revenues and people an option to upgrade from country liquor to better quality liquor," Giri told ThePrint.
He added that with the provision for long-term retail outlet licenses for sale of alcohol, investing in fixed infrastructure for the same will now become a reality in Punjab.
Criticism of new excise policy
But Punjab's new excise policy has also invited criticism from numerous quarters.
Critics of the policy point out that it reduces the number of government-allotted liquor groups – clusters of liquor vendors – from 700 to 177, while increasing the minimum eligibility criteria for each vendor from Rs 7-8 crore to at least Rs 30 crore.
The policy adds that wholesalers also need to furnish documents to show a minimum of two years of experience in the business. 
Further, the annual licence fees for L1 has been fixed at Rs 5 crore from the earlier Rs 25 lakh plus variable for different types of liquor.
These changes in the excise policy have not gone down well with smaller wholesalers who say the increase in minimum eligibility criteria will favour bigger players in the market. 
"The government should try not to make the retail market over competitive, otherwise, many contractors will quit the market the way they did in Delhi, where heavier discounts by some made it almost impossible for others to run their business.
The new government is very receptive to policy recommendations and we will keep suggesting them with progressive steps," said Vinod Giri.
(Edited by Amrtansh Arora)
The above news was originally posted on theprint.in The above news is a result of aggregated feed and is not edited or drafted by Aabkari Times or any of its staff.