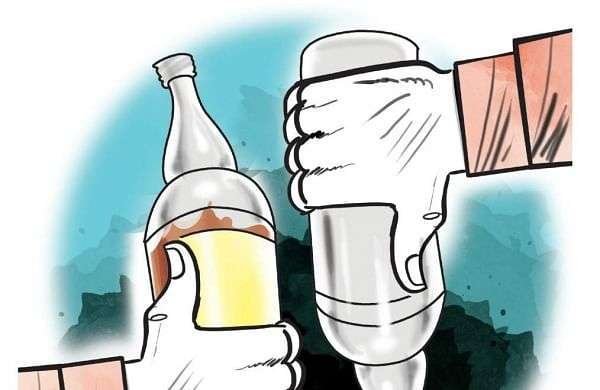 Ranchi: Jharkhand Khudra Sharab Vikreta Sangh (JKSVS), the umbrella organisation of businessmen who run 1,564 retail licensed liquor shops across the state, on Tuesday accused the state excise and prohibition department of paving the way for the empanelment of four Chhattisgarh-based private companies to operate 1,000-odd retail liquor stores once the new excise rules are implemented next month.
JKSVS representatives on Tuesday met BJP's state president Deepak Prakash in Ranchi and claimed that the Jharkhand State Beverage Corporation Limited (JSBCL) scrapped the tenders invited earlier and floated a fresh one on Monday. "The new tender was floated without the approval of the state election commission (SEC), thereby flouting the model code of conduct which is in force due to the upcoming panchayat polls," the organisation claimed.
"The original tender, which was floated on April 1, closed on April 16. Interested companies submitted their bids for the role of placement agency in nine out of 10 zones (one zone comprising multiple districts). Despite the participation, the tender was scrapped and a fresh bid was invited on Monday," Achintya Saw, president of JKSVS, claimed.
The JKSVS claimed that the new tender document scrapped a provision of the previous tender document which mandated the placement agencies (which would provide manpower for running the store) to pay the government a fixed margin of 3.9% of their profits if one store failed to meet its minimum guarantee revenue (MGR) to the department. "The new tender document has done away with the provision and has empowered the agencies to quote their own minimum margins. This will result in a dip in the projected revenue of the state excise department, which has been pegged at Rs 2,300 crore," the JKSVS said.
After the delegation met Prakash, the BJP issued a statement supporting the JKSVS and claimed that the tendering process was being started afresh to facilitate the participating of A2Z Infra Services Limited, Prime One Workforce Private Limited, Sumeet Facilities Limited and Eagle Hunter Solutions Limited. "This is being done to aid the Chhattisgarh mafia and their companies which could not take part in the bidding," the statement, issued on behalf of BJP's legislative party leader Babulal Marandi, said.
Excise minister Jagarnath Mahto and senior officials of the department did not respond when contacted.
The above news was originally posted on timesofindia.indiatimes.com
Promotion