The virtual conclave was organized by UPDA on Tuesday (October 19) received an overwhelming response from the delegates and the liquor manufacturers and allied partners.
New Delhi: UP Distillers Association, which is an apex body of Distillery industry in the state of Uttar Pradesh which has over 70 distilleries conducted its yearly conclave of the year 2021.
The association through its yearly expo cum summit initiates a knowledge session promoting distillery industry of UP with coverage of Distilleries interest and showcasing product & technologies helpful for the industry and the state govt. within applicable regulatory and governing laws.
For the year 2021, the event took place on 19th October through virtual exhibition cum technical mode. The event had been great hit with the industry fraternity.
Image- The event was flagged off by Sri. Sanjay Bhoosreddy, Principal Secretary, UP Excise and Dr. Senthil Pandian C., UP Excise Commissioner alongwith the other dignitaries.
About UPDA Spirited Conclave 2.0
As per Mr. Rajneesh Agarwal, Secretary General UPDA, event was conducted on October 19, and it took place under the banner of multiple themes; taking from the PET Packaging & DigiLock systems as per the Excise Mandates to Converting Molasses Based Plants to Grain to Spent Wash Treatment. The Conclave provided a significant platform for industry people to connect, discuss and work together.
There are partner pavilions created to showcase the future through innovation and world – class expertise, and organisation pavilions for distillery industry to present their efforts to address day to day challenges and reformations in the governing laws.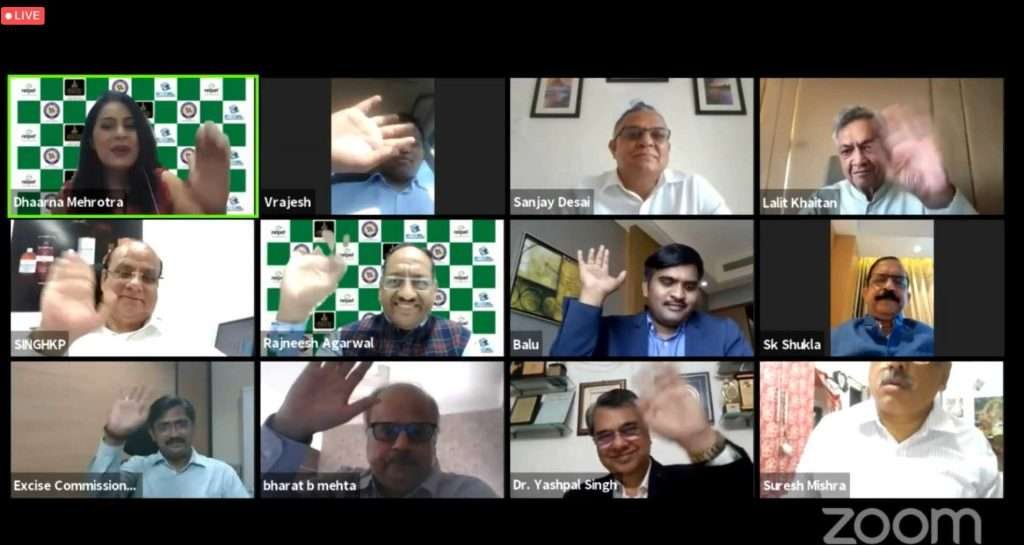 The event has been in line with the associations prime objective which is to render services as an interface between its Members & State Govt. authorities on all matters pertaining to distillery- Sugar industry from time-time.
The series of discussion took place on below topics by the plant manufactures and service providers
Variety of discussions took place on the below themes-
1. Pet Packaging by Reliance
2. Digital e-Lock by QTS (Excise mandate)
3. Grain Ethanol Eco Friendly Solution by Excel
4. Aluminium Caps to Plastic Caps by Hitesh Plastics
5. Excellence in Liquor Bottling by Bottmac
Delivering Excellence In Liquid Bottling by Mr Kavinder Singh – Bottmac India Pvt Ltd.
6. Sustainable Ethanol Production by Novozymes
6. Spent Wash Treatment by SSP
The event on 19th October received an overwhelming response and there were enquiries about the new products by the delegates as to when can they get the demonstration of their products at their sites.
For this event, Aabkari Times, a monthly news magazine on Excise and AlcoBev was associated as a media partner