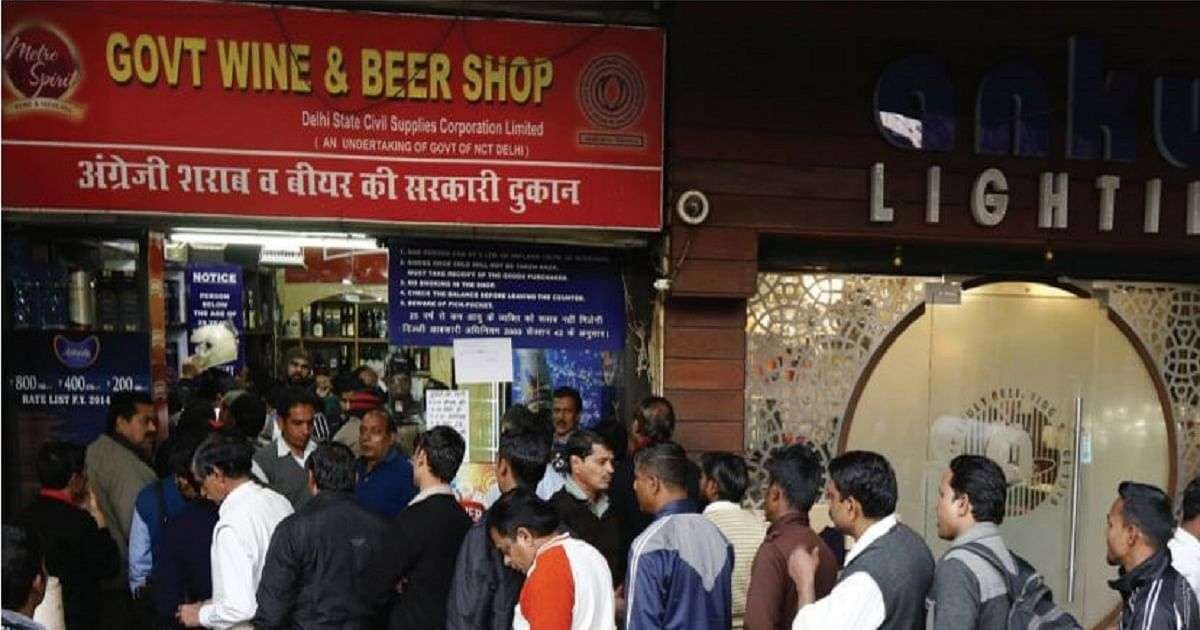 Citizens do not have a fundamental right to drink or sell liquor, argued Delhi Government in justifying its new excise policy, which has pushed small vendors out while inviting big players
Promotion
Harish Chauhan owned a liquor vend at Sheikh Sarai-I since 2002. But when in June-end this year Delhi Government floated tenders for allotment of fresh liquor trade licenses, he realised that he would be out in the cold. Each bidder was required to deposit Rs 30 Crore as earnest money and a non-refundable amount of Rs 10 lakhs, he recalled, for the privilege of bidding.
Till this year the annual licence fees for a liquor vend was Rs. 8 lakh a year. With all licences expiring on September 30, the existing vendors, barring the few big players, were left in the lurch. The Government announced that only government owned vends would sell liquor in Delhi after September 30 but only till November 16, when all vends will be handed over to private dealers.
The new excise policy required a private bidder to bid for all the 27 vends to be allowed in each of Delhi's 32 zones. The old policy allowed only one liquor trade licence for one family. Now the restriction has been lifted and one can bid for as many zones as they want. The reserve licence fees for each zone were fixed between Rs. 220 crore and Rs. 228 crore barring the Airport zone for which the reserve price was Rs 105 crore, informs Naresh Goel, president of Delhi Liquor Traders Association. While vends will run between 10 am and 10 pm, vends in the airport zone will be allowed to trade round the clock.
Most of the 260 private licensees in Delhi (the remaining 540 were government vends) had been hit badly by the pandemic, the retailers point out. There was no sale but the rent and the annual licence had to be paid. "We were living on our savings and now we are out of the business," rues Chauhan.
The Delhi Government also turned down their plea for more time and permission to sell in the festive season. The argument that there would be overcrowding at government vends was also rejected. The traders then argued that the government would lose revenue because people would buy liquor from Gurugram, Faridabad, Noida and Ghaziabad in Haryana and UP during the festive season. But that too did not cut any ice.
The Delhi High Court turned down their plea for a stay order. There was no discrimination, the high court held and observed, "… change is inevitable. The excise policy is no exception to this rule. New experiments are always being permitted as a matter of a policy." The petition that the new policy would allow cartels and monopoly and consumers would have to pay more did not impress the court.
Delhi government's counsel Rahul Mehra argued in court that under the new policy, revprivate vends, largely rented, had to occupy at least 500 square feet.
While the actual earning from vends depended on the locality, turnover and the brands sold, on an average a vendor selling IMFL and foreign liquor could earn between two to three lakh rupees every month, the vendors informed.
"The government introduced this new policy at a time when small retail vendors were in dire financial straits following the pandemic. If we had a few more months, we could have tried to pool our resources. But the government was in a hurry and wrapped up the process in less than a month. People like us stood no chance," says a dejected former vendor.
"Now over 150 families who had a liquor shop as their only means of earning suddenly find themselves out on the road. Starting a new business is not easy at this time or at our age," he lamented.
But why was the Delhi Government in such a tearing hurry? Vendors offered an inside story to explain the haste on condition of anonymity. "Actually, Delhi Deputy CM Manish Sisodia wanted to push out of this business 3-4 players who had formed a cartel and controlled over 100 vends between them, following a tiff," they claimed.
But in the process, he ended up pushing others out while the cartel is back in business, they claim.
The above news was originally posted on www.nationalheraldindia.com by Mohd Asim Khan
(The above news/article is a result of syndicated feed and Aabkari TImes or any of its staff do not inherit the expressions present in the news/article and is served for informative purpose only)