KOLKATA: Tipplers may have a reason to cheer before festive season. The price of India Made Foreign (IMFL) in the state is likely to come down by 20% across the board from the third week of September. The price of beer may change marginally from either side.
It has been learnt that the excise department had a series of meetings with leading liquor and beer companies in the last two months following representations from various bodies related to liquor trade. The consumption of IMFL in the state has been on decline since the upward revision in price in April 2020. The price of IMFL has increased by almost 40%-50% in two tranches since the pandemic set in. In the last quarter of 2020-21 (Jan-Feb-March 2021), liquor consumption was down by 28% compared to the same period in 2019-20. The trend continued in the first quarter of this fiscal (April-June) as well.
In case of IMFL, as per available data, the consumption in Jan-Feb-March period this year was 2.5 million cases (12 bottles of 750 ml). From April to June, the consumption was 2.6-2.7 million cases. For the whole fiscal of 2020-21, the consumption of IMFL in the state was a little over 10 million
cases which too witnessed a decline of around 30%.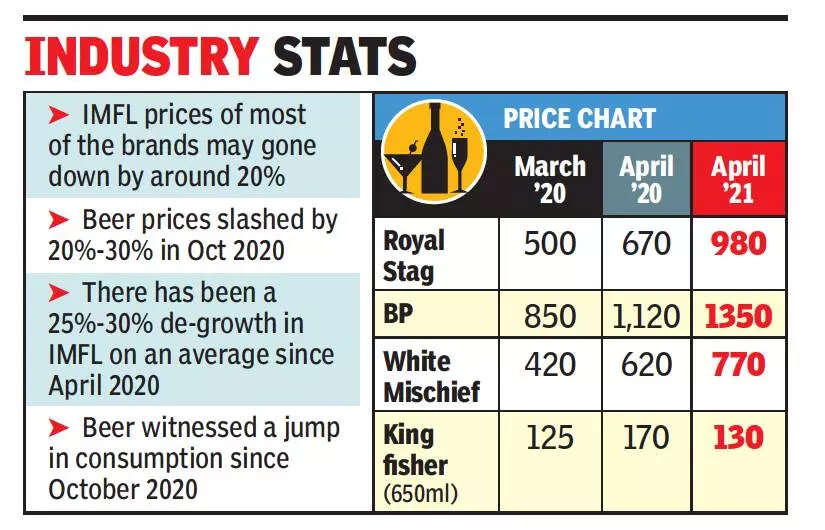 It was learnt that the excise department has already verbally conveyed the information of change in duty structure on exdistillery price for IMFL and exbrewery price (EBP) for beer from the third week of next month. "A detailed circular in this regard may be issued in the second week of September.
A reduction in price before Puja would definitely boost the demand for liquor," an executive of an IMFL company said. According to liquor experts, price does matter even when it comes to hard liquor and beer which are perceived to be less price sensitive like petroleum products. In a sharp contrast, there has been a massive dip in IMFL demand while the beer demand witnessed a jump.
The price of beer was slashed in October 2020 by 20%-30% depending on various brands. An executive of a top beer company pointed out that there has been a robust growth in beer demand since the fall in price last year.

Going by the figure in January this year, beer demand was 7.4 lakh cases (one case has 12 bottles of 650 ml) compared to 3.7 lakh cases in January 2020. In February, too, there was a robust growth, while in March and April, which are among peak seasons for beer, the growth is three times — from 6.3 lakh cases in March 2020 to16.7 lakh cases this March and from 2,875 cases in April 2020 (complete lockdown) to 16.7 lakh cases this April. "The trend continued in May, June and July he added.
Source: TOI