Launched in September 2019, Jimmy's Cocktails is a ready-to-drink premium cocktail mixer brand. Crafted by some of India's top mixologists, Jimmy's range of cocktail mixers are made with fewer calories, natural flavours and zero artificial sweeteners – achieved by using only the highest quality ingredients with their natural sweetness.  Since its establishment, the company has been rapidly expanding its brand presence across several cities in India. Currently, the products are available in over 20 cities. Ankur Bhatia, founder, Jimmy's Cocktails, in an email interaction with Ashwani Maindola, reveals more. Excerpts:
Describe your drinks/cocktails/mocktails, how did you get inspiration for these drinks?
Currently, it is available in 4 classic cocktail variants. When we were exploring flavours for our first range, we wanted to launch cocktails that were popular, well known and classic favourites. Also, since vodka, whiskey and rum constitute the largest share of spirits purchased for home consumption, it seemed right to launch flavours that mix with these. So our first 4 cocktail mixers were the Cosmopolitan, Sex on the Beach, Whiskey Sour and the Mango Chilli Mojito. The classic Mojito is a popular choice among bar goers, but we added our twist by adding the luscious flavours of mango which Indians absolutely love, as well as adding the zing of chilli to the drink.
The inspiration was the result of a night with a couple of friends at an upscale bar in Bandra where we were enjoying some amazing cocktails. When the bar shut its doors for the night, the evening progressed to a friend's home. The options at home were not at all satisfactory as we were hankering for those delicious and complex flavours and all we had at home was some aerated beverages and packaged juice. It just didn't hit the spot. When I went out looking for some mixer options for the next get-together, I couldn't find many interesting options on the shelves. And that really laid the seed for Jimmy's.
Summer is the best season of mixology. Your comment on this.
While summer and tropical weather does conjure up images of refreshing fruity cocktails garnished with flowers and fruit slices, the fact is that people consume more spirits during the winter months. In India the period from Diwali to Holi serves as the peak season for spirits sale and consumption. And hence we do see a corresponding rise in purchase of associated products like cocktail mixers, which are primarily enjoyed with spirits.
How are you observing the change in consumer behaviour with respect to the beverage industry?
In recent years, bars were seeing a steady upward trend in the share of cocktails as part of total alcohol sales. This certainly signalled a changing consumer palate and the desire to enhance and upgrade the drinking experience.
This growing preference however seemed limited to the bars as people found it hard to replicate the multiple flavours and complexity of creating a cocktail at home.  Home bar mixers have been boring and uninspiring for a long time and therein lay the opportunity to cater to this growing group of consumers, ready to take their home drinking experience to the next level.
This opportunity of course hasn't passed unnoticed, and more recently we have seen a number of startups in the alcobev mixer space, which is now heating up and getting exciting.
Are you anticipating an increase in demand for cocktails during this summer and how are you planning to fulfil those?
There is definitely an organic demand for cocktails which has seen a rise as consumers have a wider range of premium product choices available recently to mix with their spirits. Also, with varied levels of lockdown restrictions imposed across the country especially for recreational activities like dining out, we anticipate a spike in home consumption yet again.
However, the scale of the increase will be hard to guess, as with the exponential rise in Covid cases, social engagements with family and friends at home will be greatly reduced.
How was the demand for your products during last summer, considering most of the shops and pubs were closed pertaining to nationwide lockdown?
We initiated national sales operations only from August 2020, which was a few months into summer and lockdown already. The product received an overwhelming response and our entire inventory sold out. This drove us to recalibrate our capacity and we soon moved to a larger manufacturing facility to support the demand.
Which variant from your product portfolio you expect will be sold most during this season?
Surprisingly all our variants enjoy equal popularity and no one or two mixer variants outsell the others. This could also be because we launched a range of cocktail mixers to go with different spirits. Our whisky sour has an appeal to the wide whisky drinking consumer base. Cosmopolitan and Sex on the Beach are natural mixers for vodka and the mango chilli mojito had the appeal of India's favourite flavour in a widely loved drink, the Mojito.
Are you planning to add any variant to your portfolio during this season?
We are planning to add 2 or more variants every quarter over the coming year. We have an exciting range of mixers we plan to launch, with a few additional classic favourites and some exotic new flavours, to accompany a range of spirits, including whisky, vodka, gin as well as wine and dark rum.
And, finally, how are you ensuring food safety of the products manufactured by your company?
We control the entire process and supply chain, from R&D to procurement of quality raw material in-house. We also have an internal quality control team at our exclusive plant in Nashik. We follow the best global manufacturing practices and SOPs including all Covid protocols.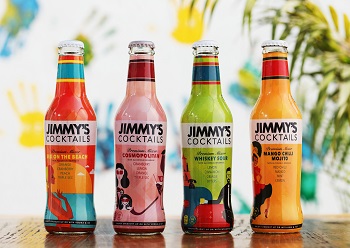 The above news was originally posted on www.fnbnews.com